I know I'm early early in posting this but this is a hard one and is going to require some thinking and play. I thought I would post it early so that we could be pondering what kind of photo to take.
This weeks challenge is about
Negative Space!
We think about negative space, or white space, all the time in scrapbook pages...but do your photos have negative space?
Mine
never
do! I crop all that out! Bah! My photos tend to be all funtion and very little art too. This will be a great challenge to push me out out of my box! I can't wait to give it a go. [/url]
_________________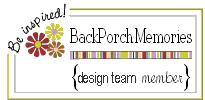 My Blog
Numbers 6: 24-26
Karry - Northeast GA - Scrapping since 2006