I am late!! I haven't had time for much of anyhting. This summer has been crazy. Usually summer is my favorite time to take photos...but my camera has spent more time than ever in it's bag and that just makes me sad!
This weeks challenge is to capture
part of the picture!
Here is my photo:
_________________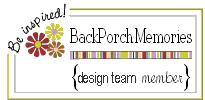 My Blog
Numbers 6: 24-26
Karry - Northeast GA - Scrapping since 2006