The other day I wanted so badly to try and take a picture of my yorkie blowing in the wind...She was so cute. It would have been the best picture ever from the backseat. She was standing on top of the middle console in my car, facing the back of the car. All of her fur was just plastered straight back and she had her neck stretched as far as she could with her eyes closed. She looked like she was in heaven.
I never would have thought about taking a picture before...this article has inspired me. I think I'm going to have to have my hubby cheufeur us around until I get that look again! lol
My Springer loves to ride in the car, but she HATES riding in the wind! She can't stand to have the wind under her ears. Once the car hits 50 miles an hour she climbs in the floorboard.
_________________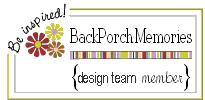 My Blog
Numbers 6: 24-26
Karry - Northeast GA - Scrapping since 2006