It's finally starting to cool down a bit (yay!!!!) and that means fall is on the way
I can't wait for our leaves to start changing!
So with this change of seasons, I want you to use your stamps on a Fall project. It can be a layout about last year's pumpkin patch adventure, a fall card, a fall home decor project, etc. Anything goes this month! And it doesn't matter WHAT kind of stamp you use (it doesn't have to be fall themed), I just want you to use a stamp somewhere on your project. Got it?
Here's my example, a card I made to send to my grandma
The "autumn blessings" is a stamp. And you'll see some of these papers in the Medley Kit this month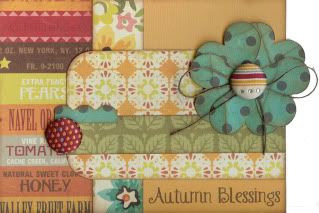 Completed challenge entries should be uploaded to our "October Challenges" folder in the gallery. All challenge entries for the month will be entered into a drawing for a prize! The more challenges you complete this month, the more chances you have to win. And yes, you can enter more than one challenge and enter more than one entry for each challenge!