Hello, friends!!!
Can you believe it's time for AUGUST?!
For my challenge this month, I'd like for you to create either a page or layout that uses MASCULINE papers and embellishments. This is sometimes harder to do, when we're surrounded by flowers and lace! So no prissy embellishments allowed
Here's my example! I made this card using Echo Park paper. I thought this line was very nice and masculine and perfect for a card that uses numbers as the highlight! I love the numbers PP! I used Baker's Twine, which is a nice masculine texture. I can tie it in a bow without it looking girly. And buttons always work for dudes, too.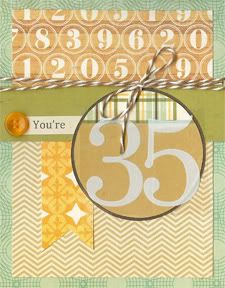 You have from now until midnight Eastern time on August 31 to complete the challenge. You may complete as many projects using the challenge as you wish. Each project will earn you an entry into our monthly prize drawing.

Note: Because our gallery is down, you must use some sort of photo hosting service (like http://www.tinypic.com or http://www.photobucket.com) OR link us to an external gallery or site such as your blog or other gallery (such as http://www.twopeasinabucket.com). Please do not link us to any other kit club galleries.