HAPPY 2013!!!!!!!!!!!!!!!!!!!!!
For my challenge this month, help usher in 2013 by making a layout using the following "New Year's" recipe:
* Photo(s) from 2012
* something New Year's Eve-ish (i.e. bling, sequins, ribbons, etc.)
* something that was trendy in scrapbooking in 2012 (I used stickers to mimic Washi Tape)
* something BRAND NEW in honor of the new year (can use a new tool, brand new paper you just purchased, etc.)
You cannot combine items. I.e. you can't use photos from 2012 that are also brand new (taken yesterday, for instance).
Here's my example! I used photos from 2012 of my mom and DS. My New Year's Eve items are the blingy pieces in the flower centers. I used a Washi Tape sticker for the 2012 trend. And my brand new item was the paper in the January 2013 Solo (coming to your mailbox soon)!!!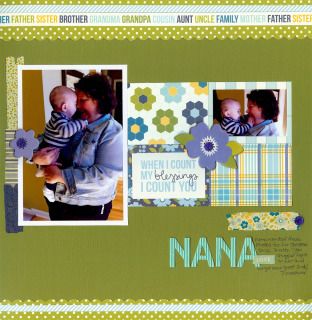 You have from now until midnight Eastern time on January 31 to complete the challenge. You may complete as many projects using the challenge as you wish. Each project will earn you an entry into our monthly prize drawing. Please upload your layout to our gallery in the appropriate "January '13 Challenges" folder to be eligible for the prize.