Yeah! It's (almost) May as I type this! May is a wonderful month at our house. Not only is it finally beautiful here, but we celebrate many May birthdays in our family! AND it's the month of MOMS!!! Woohoo!
So for my challenge this month, I want you to scrap something that is mom-related. You can scrap about your mom. Or yourself as a mom. Your DD as a mom. Whatever! You can also feel free to create a gift FOR a mom for this challenge, including an altered project, Mother's Day card, etc.
I have a couple of examples!
Here's a page I made with one of our kits last year about my first Mother's Day. DS was just a couple of weeks old here! Crazy!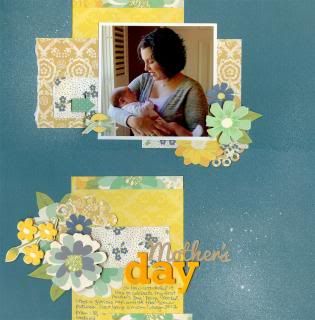 Here's a card/tag/envelope set I made with last month's kit for a friend who just became a new mom of a baby girl! I sent this with her gift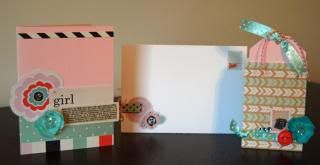 You have from now until midnight Eastern time on May 31 to complete the challenge. You may complete as many projects using the challenge as you wish. Each project will earn you an entry into our monthly prize drawing. Please upload your layout to our gallery in the appropriate "May '13 Challenges" folder to be eligible for the prize.