Happy Spring! There's still a good foot of snow on the ground here in Fairbanks, but at least the pavement is getting dry! I was so confused when I first moved to Interior Alaska. All my life I'd referred to the season between winter and summer as "spring." Well, here it lasts about two weeks, is muddy, and is called "break up" in reference to the ice breaking up on the rivers. The days are long so the tree branches go from bare to full foliage in about ten days. Yay sunlight and instant shade!
Earlier this month I was at my son's school and I saw this posted on the girls' bathroom door. I loved this quote and took a pic with my camera phone:
I was going to use the quote on a page, but ended up giving it a whole shadow box instead: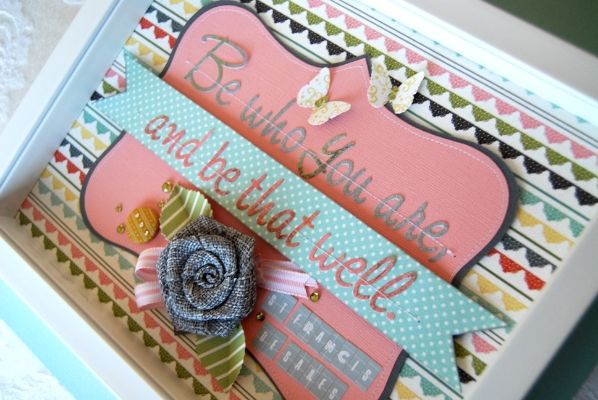 Another favorite quote I used on a layout when I retired my lab Chena from agility due to a chronic neck injury -
"Don't cry because it's over. Smile because it happened." -Dr. Seuss
I'd share the layout, but it's on my old computer.
So your challenge, should you choose to accept it - incorporate a quote into your project. It can be the title, the journaling, or an embellishment. Let's see whose words inspire you!
And now for the small print:
You have from now until midnight Eastern time on April 30th to complete the challenge. You may complete as many projects using the challenge as you wish. Each project will earn you an entry into our monthly prize drawing. Please upload your layout to our gallery in the appropriate "April '13 Challenges" folder to be eligible for the prize.