Happy Summer, Everyone!
One of my favorite designers is Jennifer Larson. She's on the "Write.Click.Scrapbook" crew and appears in the magazines frequently. Jennifer lives in Minnesota and every so often publishes a layout with a big, beautiful photo full of sky and prarie and a family member or two. They're just stunning. I love the look of the huge photo so I decided to blow up this fairly decent pic of my little dog...
So if bigger is sometimes better, what about tiny? I went through some of my old pages looking for examples with bitty photos. This one took the cake. Yes, I punched photos into circles...but for effect! And a lot of them were scanned fronm slides (remember those?) and really did have better detail when printed small.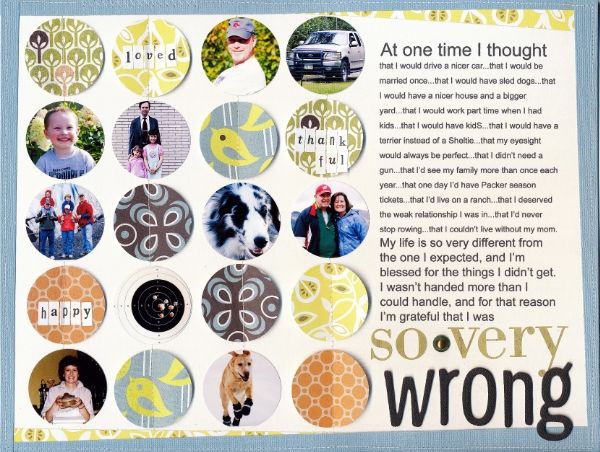 Your challenge this month is to go to the extremes of size - use either a huge photo, or one or more tiny ones.
And the small print...
You have from now until midnight Eastern time on June 30 to complete the challenge. You may complete as many projects using the challenge as you wish. Each project will earn you an entry into our monthly prize drawing. Please upload your layout to our gallery in the appropriate "June '13 Challenges" folder to be eligible for the prize.