I don't often print my photos in black and white but sometimes the colors in the photos don't really match the papers I want to use which in this case was the BackPorch Memories April Medley. I like the effect the b&w photo has.
My challenge this month is to
use 1 or more photos in black and white and I also want you to show a 'relationship'
. My photo is of my youngest and oldest granddaughters sharing a treat. They always get along so well even though there's an 8 year difference in their ages.
Make Your Smile Contagious!
Looking forward to seeing what you do with this!
For the fine print:
You have from now until midnight Eastern time on July 31 to complete the challenge. You may complete as many projects using the challenge as you wish. Each project will earn you an entry into our monthly prize drawing. Please upload your layout to our gallery in the appropriate "July '13 Challenges" folder to be eligible for the prize.
_________________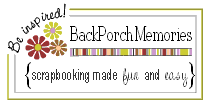 Deanna ~ Belpre, Ohio ~ scrapping since 2000