---
Mist, Spritz, Splat: Misting Class




Challenge/Class Due: Saturday, May 21st @ Midnight EST



Welcome, to my misting class! I hope you have a great time learning a couple fun techniques using your mists! You can use

ANY

mists you have on hand for these techniques. Each will give you a little different look, as some are more pigmented than others, have or don't have sparkle, are more opaque, etc. So experiment and have fun!

Before we get started, let's gather what you'll need...

Supplies:

*mists: these can include Maya Mists, Glimmer Mists, Perfect Pearls Mists, Smooch Mists, etc. You can even make your own mists by using powdered perfect pearls & distress reinkers by following this fun video by Tim Holtz http://www.youtube.com/watch?v=9zm5JTf2 ... re=related Keep in mind you can experiment and just use the perfect pearls and water (no ink) or just the ink and water (no pearls) for different looks!
*coordinating cardstock, patterned paper, embellishments
*stamp, embossing ink (like VersaMark), embossing powders (I love the ones by American Crafts), heat gun/tool.
*die cuts or a die cutting machine
*stickers
*removable adhesive
*box or craft mat to protect your work surface


Tips & Tricks

*Be sure to shake your mists so that all the color and glimmer is evenly distributed in the bottle. If you notice your mists are spraying in "globs" instead of a fine mist, try rolling the bottle to mix it instead of shaking it. The "globs" come from air bubbles getting trapped in the sprayer.
*If you get impatient, it is perfectly fine to use a heat gun to speed up the drying time.
*Heavier weighted paper (like Bazzill) works better than the thinner stuff, since thinner paper tends to tear and curl easier when wet.
*Because you are moistening paper with mists, it does have a tendency to curl or warp. This can easily be remedied by letting the paper sit under something heavy for a few hours. Or, if you are impatient, you can sort of mold/smooth it back in place gently with your hands.


Masking

The first technique I want to show you is called masking. Masking is basically where you cover part of your project with a die cut, sticker or some other object to essentially protect it from the mist. When you lift off the object after spraying, you will be left with an open area in whatever shape you used that is NOT misted/colored.

It's fun! Let's try it.

On this project, I decided I wanted to mask my sentiment on this card. So I used some old, old, old letter stickers and a silk flower. I placed them on my pre-cut cardstock base and into a clean pizza box to protect my work space.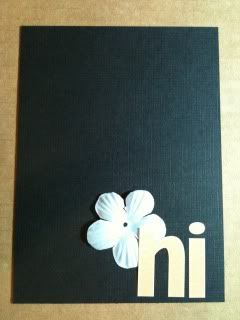 I then shook my mist to be sure all the glimmer was mixed in. Here, I used a gorgeous yellow color of Perfect Pearls Mist by Ranger in Sunshine Sparkle. I love that sometimes it looks yellow like it will here and sometimes it looks gold (which you'll see in another sample). Then I sprayed 2-3 spritzes of color about 12" from my project and allowed it to dry. You can heat it with a heat gun if you're impatient


This is what it looks like after drying: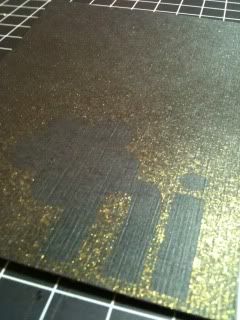 Then I embellished it and put my card together. To make the sentiment stand out a little better, I used a white pen to outline the letters. I decided I wanted to tuck a flower in behind the "h" so I traced my letter sticker with more black cardstock, cut it out and outlined it in white so that it matches the misted "i" that is flat on the page.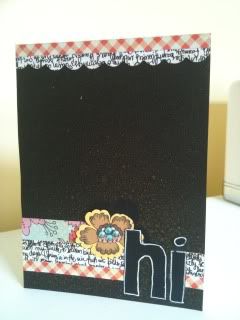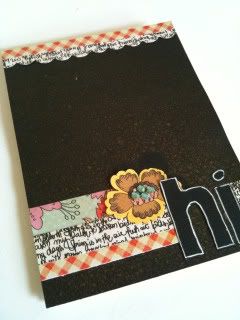 The bad thing about misting is sometimes the sparkle is hard to capture with a camera, but I think you get the idea!


Negative Space Masking

Now that you have the idea, let's move on to another technique that's similar to the one above. Here, we're going to use the NEGATIVE or the leftovers of a die cut image. So you know how when you use your Cricut to cut out a star, once you remove the star itself you're left with a piece of paper that has the outline of the star shape? Yup, we're going to use this negative space with our mists!

I cut oodles of small (1/2") circles to use in class at my LSS out of this paper with my Cricut. When I pulled out all the circles to give to my students, I LOVED what I was left with. Isn't this piece of paper cool?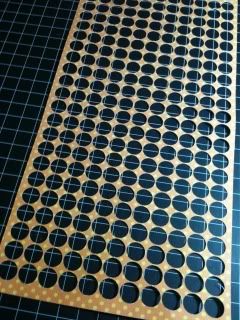 I then knew exactly what I wanted to do with it! I grabbed a pale gray piece of cardstock and my Glimmer Mist in Silver Sugar.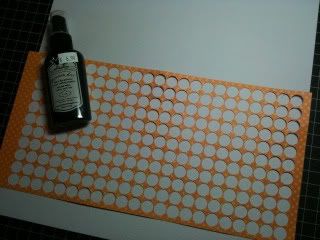 Because this sheet of dots was so big, I didn't want it to move around. So I used a few dots of removable adhesive on the back of it to hold it in place. Again, place this in a box or on a large craft mat so you protect your work surface and spray as many times over it as desired. I probably used 5-6 sprays on this one.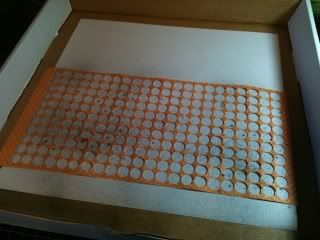 Then remove the mask and rub off the adhesive and you will have this. It looks darker here because the mist hasn't dried yet in this photo.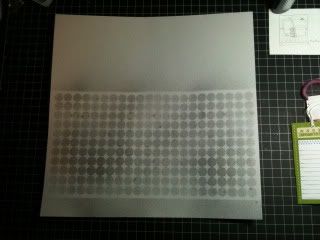 Cool, huh? I then used this piece of cardstock as my base and made this page.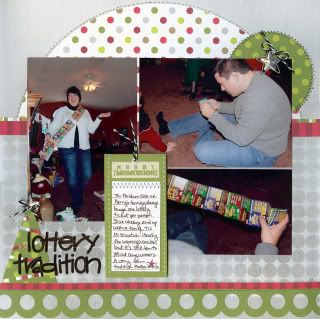 Misting Resist

Ok, now that you have the basics down, let's try something a little different. This next technique is really cool and will look different depending on what kind of stamps you use.

I decided to use a butterfly stamp that had a lot of open areas so I could highlight the technique. This is a Unity Stamp that was offered as part of our monthly stamp sets a few months ago. I love it!

Stamp with your stamp using an embossing ink, like Versamark. Sprinkle on embossing powder and then heat/melt it with your heat gun. This is what I had after I did these steps: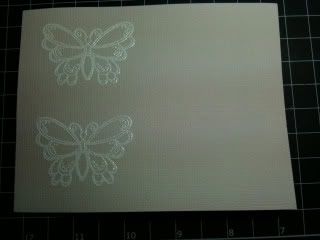 Again, place in your box or on your craft mat and spritz! I was a bit heavier with the mist here as I really wanted to cover the cardstock with gold. I used the same Perfect Pearls Mist in Sunshine Sparkle that I used on my "hi" card... see how the look is different? And I love how the embossed portions resist the mist so they stay white, and the mist fills in all the open spots in the stamp.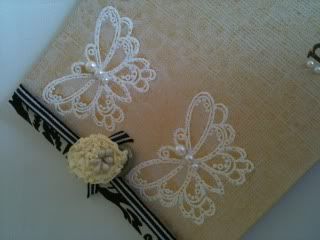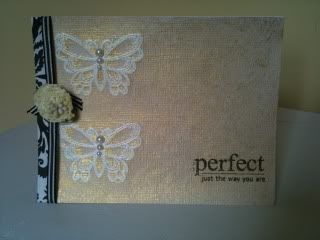 This card is REALLY sparkly! I wish I could get it to show up better. The whole background is shiny gold


You can also "resist" using rub-ons! I didn't show you this, but you basically just rub on the rub-on, spritz with mist and then either wipe the mist from the rub-on (I like to use a baby wipe) OR you can use a bit of scotch tape to lift the rub-on from the paper (work slowly and carefully).

Did you have fun?! I hope you learned something!!!

Now I want you to break out those mists and not be afraid of them! Experiment using various ways to mask & resist. Look around your craft space for things to use. Do you have any old Heidi Swapp masks from back in the day? She loved to use these with spray paint, but mists would be great with them! Try experimenting with dark vs. light cardstocks like I did with both of my cards. I used the exact same color mist on both and got totally different looks! Break out those stamps and try the resist technique. It's such a fun and easy way to use your stamps.

Now it's your turn! Complete this challenge by using any of the misting techniques from my class on any project (layout, card, altered item, etc.) and upload it to our gallery in the proper folder (Mist, Spritz, Splat) under "May Crop Challenges & Classes" by Sunday, May 21st at midnight EST. You may enter up to THREE projects for this class/challenge. Two page layouts count as one entry, even if you upload each side separately. Projects must be NEWLY CREATED specifically for this challenge. You cannot combine challenges.

Have fun and let me know here if you have questions!