It's Hip to be Square
Due Date: Sunday, May 15 @ 6 p.m. Eastern
For this challenge, I want you to dig through your scraps and pull out
at least
FOUR that work well/look nice together. They shouldn't be all from the same company or paper line, since the idea is to mix and match different colors and patterns for a totally new look. Then, use these patterns in squares. You could block a 12x12 sheet of cardstock with four different 6x6 scraps. You could cut them all different size squares and make a collage, etc. The point is to use them as squares!
Got it? You need to mix and match at least four different patterned papers from different manufacturers (or at least four different paper lines). Cut them into squares and use them on a layout.
Here's my example. I had fun digging through my scraps and seeing combos I wouldn't have normally have put together! I have papers from 5 different manufacturers: Making Memories (green snowflakes); Bo Bunny (red polka dot - and this is really, really old
); Scenic Route (blue circles); Fancy Pants (stripe); Basic Grey (branch looking piece). Thanks to Helen Croft for the LO idea.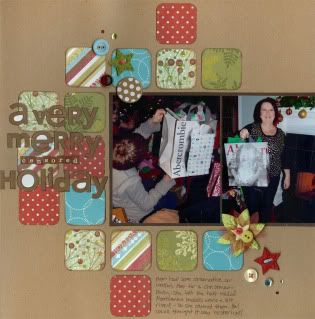 Now it's your turn! Complete this challenge and upload it to our gallery in the proper folder (It's Hip to be Square) under "May Crop Challenges & Classes" by Sunday, May 15 at 6 p.m. EST. You may enter up to THREE projects per person, per challenge. Two page layouts count as one entry, even if you upload each side separately. Projects must be NEWLY CREATED specifically for this challenge. You cannot combine challenges.