Learning Your ABC's
Challenge Due: Saturday, May 21st at midnight EST
ABCEDEFHIJKLMNOPQRSTUVWXYZ. Now you know your ABC's, next time won't you scrap with me! For this challenge, I want you to use as many letter stickers, letter chipboard, or puffy letter stickers as you can.
Here are a few ways you can do this:
1-Use your stickers as a mask. Put them on your cardstock in whatever pattern you want, mist them and let it dry. Then your can gently peel off your stickers and have a cool pattern.
2-You can also put all your random numbers and letters of different colors onto the base of your layout and then paint the whole thing to make it one color. It ends up looking like a die-cut piece of cardstock.
3-Mix different fonts of the same color together in your title. Or use two or more different style of letters for the title.
4-Highlight each individuals name with letters. That is what I chose to do in my example.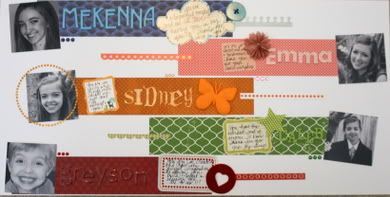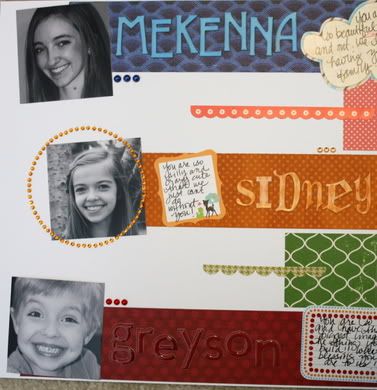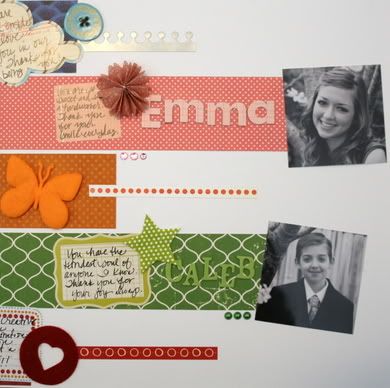 This was such a fun page to make. I can't wait to see what you all come up with.
Now it's your turn! Complete this challenge and upload it to our gallery in the proper folder (Learning Your ABC's) under "May Crop Challenges & Classes" by Saturday, May 21st at midnight EST. You may enter up to THREE projects per person, per challenge. Two page layouts count as one entry, even if you upload each side separately. Projects must be NEWLY CREATED specifically for this challenge. You cannot combine challenges.
Happy scrapping!!
_________________
Danielle P. ~ Marietta, GA ~ scrapping since 1998