This is so fun
Glossy Accent Letters
1. Cut out a title using your Cricut, QuicKutz, etc. You can also use letter stickers.
2. Adhere your title to your page (you could not adhere them, but they tend to move around otherwise. This is easier).
3. Carefully squeeze Glossy Accents (by Ranger) all over your letters. The fact that they are a little raised from your background sheet will help the liquid not go off the sides. Again, just use sparingly, but be sure you cover the WHOLE surface.
4. Allow to dry. Repeat if you want a thicker look.
5. You get shiny, dimensional letters!!! I know they are hard to see, but trust me... they are cool!!!
Before: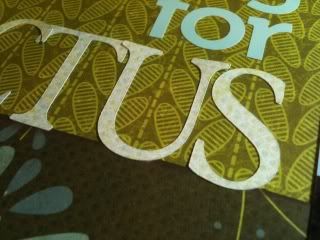 After: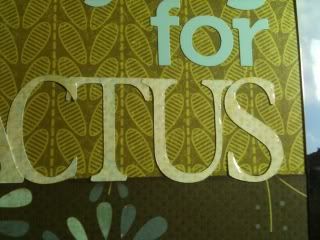 A few other fun things to try with Glossy Accents:
1. Use Glossy Accents whenever you want something to stand out. Like on a stamp of Santa, for instance, use it on his belt so it looks like patent leather!
2. Drop droplets on paper flower petals for a dew drop look.
3. Make chipboard or paper "buttons" look like the real thing by covering them with Glossy Accents.