So it looks like I am mixing up my Tuesdays and Wednesdays. Maybe we need to rename this Wacky Wednesday!!
Here is my tip for the day. Don't throw away those photos you get from your friends and family in their Christmas cards!! I always save them in a pile and put them in with the rest of my photos. At first I didn't know what to do with them, but then a saw an article in a magazine quite a few years back saying to scrap them!! I thought that was an amazing idea. So I did! I only did one year though, shame on me, but I am planning an doing the same thing again this year.
Here is my example. Now don't laugh. This page is over five years old and my scrappy style has change for the better!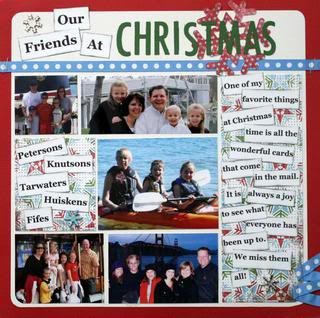 Enjoy and happy scrapping!!
_________________
Danielle P. ~ Marietta, GA ~ scrapping since 1998