I've been on a staycation in Alaska for the last two weeks - I know, that's rough. We were visited by family and friends and actually ventured beyond the Fairbanks-Northstar Borough. While I was in a hotel in Valdez and fell in love with a triptych of Denali on one of the walls. I really like triptych art - a lovely image broken into thirds. They fill large spaces but are easy on the eyes if the images are chosen wisely.
Here's an example I found online by Megan Duncanson...isn't it pretty? That would look great hanging over my sofa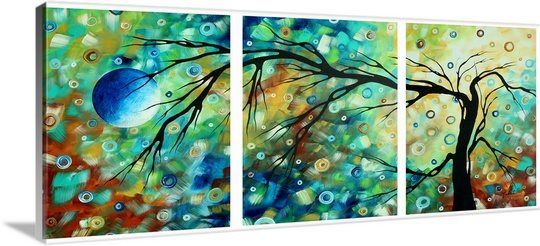 The same principle can be used on scrapbook pages. Sometimes a scenic photo can be almost overwhelming, but cropping and mounting it in thirds can give the eyes a place to rest. Even if you're using divided page protectors, you can still use large photos provided they aren't too busy.
In this example I used a photo of the start of a sled dog race. If I'd left it at 4x6, much of the movement would be lost. I used the large photo un-divided for a member layout, but I split it using PSE for my digital Project Life page. Which do you like better?