All of that pretty, pre-glittered patterned paper is GORGEOUS! I love it. But I don't love the price tag. Sheets of embellished patterned paper average about $2, so I tend to buy it sparingly.
However, you can make your own! Yup!!! I love this technique because it's so easy and gives a great glittery look. Plus, the glitter in Stickles tends to stay put vs. loose glitter, so it doesn't make a mess of your albums.
Here's How to Glitter Your Own Patterned Paper with Stickles
1. Pick a piece of patterned paper that you think would look nice enhanced with a little sparkle.
2. Choose a bottle of coordinating Stickles. If you want a more "sugared" look (typical of pre-glittered papers available), go with something in a white bottle. If you want the colors in your patterned paper to stand out, choose a similar color to the color you're trying to enhance.
3. Squeeze sparingly and work onto the patterned paper's design. You don't want big globs as it will dry raised and may hinder your usage later. If it comes out too fast or is too puffy, smooth it out with a toothpick and wipe the excess on a tissue.
4. Allow to dry.
5. Use your paper!
Here's my example. I took these with my phone so they aren't the best, but you get the idea!
My project before (gift card holder for a January birthday boy):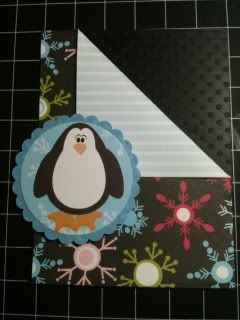 A close-up of the snowflakes after applying Frosted Lace Stickles:
Some more ideas:
1. Use this technique with your stamps. Stamp and color in an image. Use this same technique to add highlights to your image. It's especially pretty on snow and snowflakes!
2. If you don't want to glitter an entire sheet of patterned paper, plan out how big of piece you want to use and cut it down to size. Just glitter this piece. This is a big time saver.
3. Try dry or wet embossing a piece of cardstock and highlighting some of the embossed pieces with the same technique.
4. Try any of the above with Liquid Pearls for a totally different look! Keep in mind Liquid Pearls are totally opaque, so more of the pattern won't show through them.
Have fun!
Let me know if you have any questions.