Cooking Up Creations
Due Date: Saturday, May 21st @ midnight EST
I have a little recipe challenge for you! Here is how it works:
Create a layout using the following ingredients:
Required ingredients for all layouts:
Four patterned papers (cardstock is optional)
A title
Journaling strips
Use your birthday to find the rest of your ingredients!
Find your birth month to see how many photos to include on your page:
January – 1 photo
February – 2 photos
March – 3 photos
April – 4 photos
May – 1 photo
June – 2 photos
July – 3 photos
August – 4 photos
September – 1 photo
October – 2 photos
November – 3 photos
December – 4 photos

Use your birth date to see what embellishments you need to use. For example, if your birthday is on the 18th, you would use flowers and rub ons. If your birthday is on the 1st – 9th, use a 0 in front of it (as in 01 - 09). For example, if your birthday is on the 2nd, you would use 0 and 2 – ribbon/trim/lace and chipboard.

1 – flowers
2 – chipboard
3 – buttons
4 – bling
5 – brads
6 – stickers
7 – die cuts
8 – rub ons
9 – tags
0 – ribbon/trim/lace
What decade you were born in determines what technique you use on your page:

30s (or earlier) – painting
40s – embossing
50s – distressing
60s – stitching
70s – inking
80s – stamping
90s (and later) – misting
Here is my sample page using my birthday - May 10, and I was born in the 70s. LATE 70s.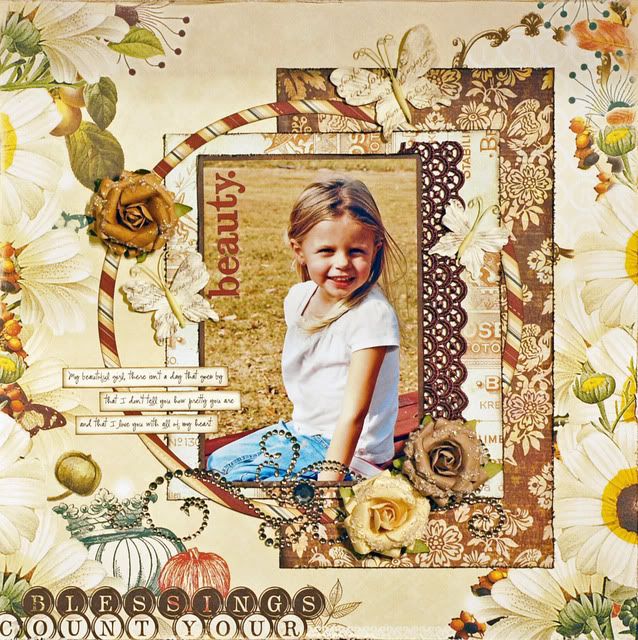 I used the required 4 patterned papers, title, and journaling strips. I used 1 photo (May) and flowers and ribbon/trim/lace (1 and 0) and inking for the 70s.
Now it's your turn! Complete this challenge and upload it to our gallery in the proper folder Cooking Up Creations under "May Crop Challenges & Classes" by Saturday, May 21st at midnight EST. You may enter up to THREE projects per person, per challenge. Two page layouts count as one entry, even if you upload each side separately. Projects must be NEWLY CREATED specifically for this challenge. You cannot combine challenges.