Here are my babies:
This is Miss Ellie when she was brand new. She is about 8 mos. old now....and impossible to keep groomed. We brush her until she runs away (she HATES being brushed) and then we watch her run in the bedroom and roll on the carpet untill her fur is matted like we never brushed it.
This is when Emma first met Ellie. We where so scared Emma might not like her....but it's been a match made in heaven. We say all the time that Ellie is more Emma's dog than she is ours!
This is Emma...about 30 seconds before we heard "Kaploosh." If there is a puddle of water Emma will be in it. It doesn't matter if it's 30* outside! She will be in it.
And this is Emma as the dirtiest (and happiest) dog in the world. I wish you could see the gnats flying around her in the photo. She looked like Lionel from Charlie Brown.
_________________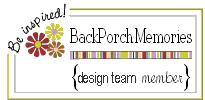 My Blog
Numbers 6: 24-26
Karry - Northeast GA - Scrapping since 2006